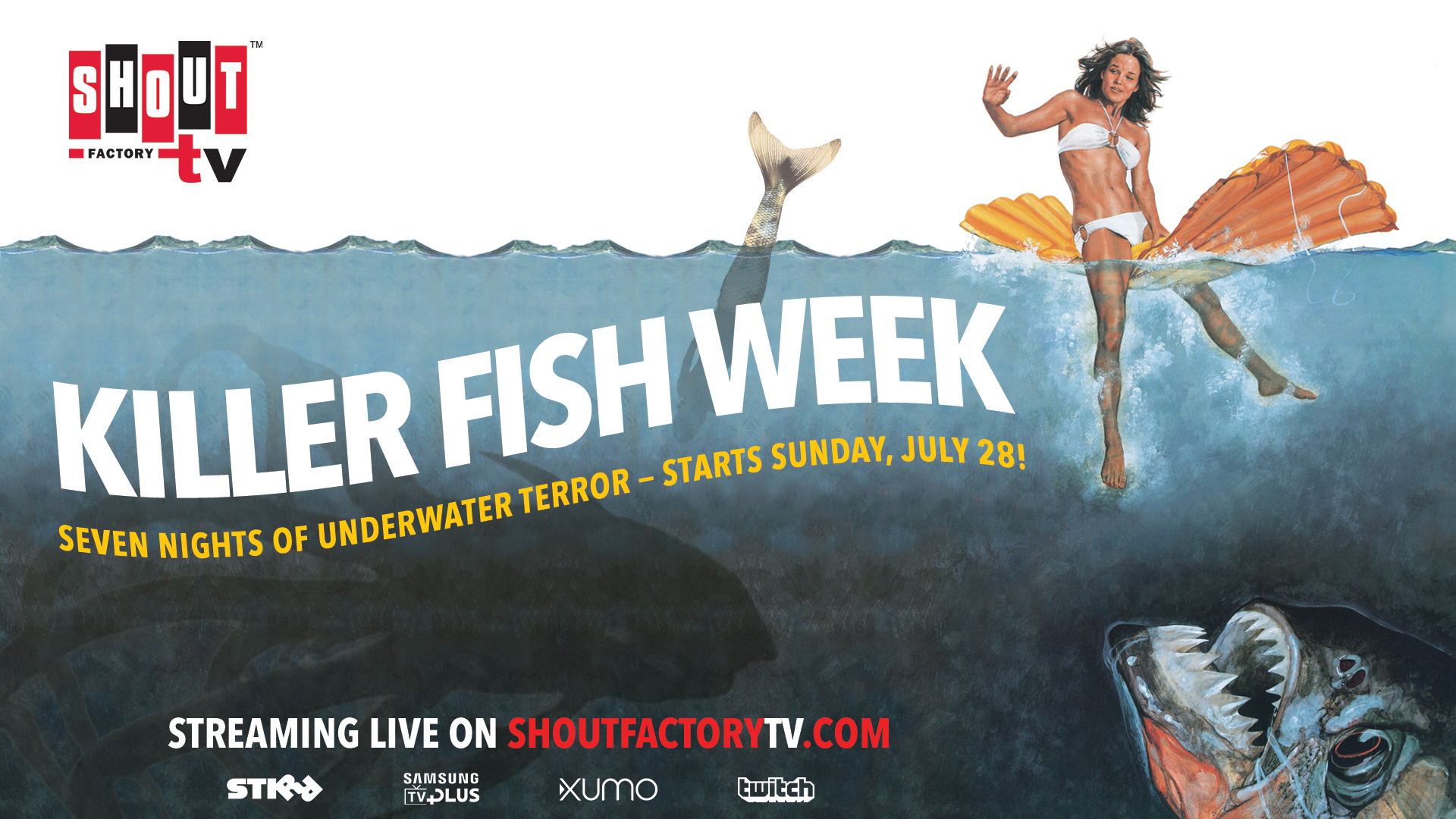 Sunday, July 28
Killer Fish: Deadly Treasure of Piranha
Jewel thieves attempt to recover treasure from piranha infested waters. Mistrust and betrayals happen amongst the gang in the quest for gold.

Piranha (1995)
A government tank containing genetically engineered piranha is unwittingly emptied into a river that flows past a resort area.

Monday, July 29
MST3K: Devil Fish
When Dr. Stella Dickens concludes the recent string of grisly deaths and demolished boats can't be the result of any known marine creature, she sets out to capture the beast, a genetically created bioweapon that must be kept secret . . . at any cost.

MST3K: The Blood Waters of Dr. Z
Seeking revenge against those responsible for stripping him of his tenure and the denial of human research subjects, Dr. Z mutates himself into a hideous — and murderous — half-human-half-fish-like creature!

Tuesday, July 30
Sharktopus v. Pteracuda
An American scientist creates a half-pterodactyl, half-barracuda creature, Pteracuda, which inevitably escapes, leaving the Sharktopus to stop it.

Sharktopus v. Whalewolf
When a mad scientist mixes the genes of a killer whale and a wolf, it creates the Whalewolf, and it's up to Sharktopus to stop it.

Wednesday, July 31
Night Tide
A young sailor falls in love with a mysterious woman, performing as a mermaid at the local carnival. He soon comes to suspect the girl might be a real mermaid, who draws men to a watery death during the full moon.

Mermaid: Lake of the Dead
Once a young woman sent to a tragic and watery grave, she has since become something unholy. Cursed to swim the waters in which she met her untimely death, the mermaid has risen once again. This unspeakable wraithlike creature hungers for love — and has set her hook for Marina's fiancé, Roman. The bond between Marian and Roman is steadfast and true. But if you spurn the mermaid, she'll punish you and take from you that which you love most. Now locked in a desperate battle with pure, undying evil, Marina must overcome her fear of the dark water to save all that she holds dear from a terrifying fate.
Thursday, August 1
Lords of the Deep
Man has finally conquered the ocean. America's first self-contained undersea laboratory is the pride of the nation, and expectations are high for an elaborate undersea mining operation. What wasn't expected was the inhabitants of an undiscovered world.

Creature from Haunted Sea
A crook decides to bump off members of his inept crew and blame their deaths on a legendary sea creature. What he doesn't know is that the creature is real.

Friday, August 2
Barracuda
A little coastal town is being terrorized by deadly Barracudas.

Piranhaconda
Two piranha/anaconda hybrid creatures hunt down the scientist who stole their egg and a film crew; making a slasher film in the jungle.

Saturday, August 3
Demon of Paradise
Fishing with dynamite in Hawaii drives a lizard-man out of the water to terrorize people.

Up from the Depths
A giant shark-like creature preys on a Hawaiian tourist community.