12:00 PM
12:30 PM
1:00 PM
1:30 PM
The Horror Of Party Beach
2:00 PM
2:30 PM
3:00 PM
3:30 PM
4:00 PM
4:30 PM
5:00 PM
5:30 PM
6:00 PM
6:30 PM
7:00 PM
7:30 PM
8:00 PM
8:30 PM
9:00 PM
9:30 PM
A Shock To The System (1990)
10:00 PM
10:30 PM
11:00 PM
11:30 PM
12:00 AM
12:30 AM
1:00 AM
1:30 AM
2:00 AM
2:30 AM
3:00 AM
3:30 AM
4:00 AM
4:30 AM
5:00 AM
5:30 AM
6:00 AM
6:30 AM
7:00 AM
7:30 AM
8:00 AM
8:30 AM
9:00 AM
9:30 AM
10:00 AM
10:30 AM
11:00 AM
11:30 AM
12:00 PM
12:30 PM
1:00 PM
1:30 PM
2:00 PM
2:30 PM
3:00 PM
3:30 PM
4:00 PM
4:30 PM
5:00 PM
5:30 PM
6:00 PM
6:30 PM
7:00 PM
7:30 PM
8:00 PM
8:30 PM
9:00 PM
9:30 PM
10:00 PM
10:30 PM
11:00 PM
11:30 PM
12:00 AM
12:30 AM
1:00 AM
1:30 AM
Bruce Lee: The Man, The Myth
2:00 AM
2:30 AM
3:00 AM
3:30 AM
4:00 AM
4:30 AM
5:00 AM
5:30 AM
Godzilla, The Uncut Japanese Original (Gojira)
6:00 AM
6:30 AM
7:00 AM
7:30 AM
8:00 AM
8:30 AM
9:00 AM
9:30 AM
10:00 AM
10:30 AM
11:00 AM
11:30 AM
12:00 PM
12:30 PM
1:00 PM
1:30 PM
Bruce Lee: The Man, The Myth
2:00 PM
2:30 PM
3:00 PM
3:30 PM
4:00 PM
4:30 PM
5:00 PM
5:30 PM
Godzilla, The Uncut Japanese Original (Gojira)
6:00 PM
6:30 PM
7:00 PM
7:30 PM
8:00 PM
8:30 PM
9:00 PM
9:30 PM
10:00 PM
10:30 PM
11:00 PM
11:30 PM
12:00 AM
12:30 AM
1:00 AM
1:30 AM
2:00 AM
2:30 AM
3:00 AM
3:30 AM
A Shock To The System (1990)
4:00 AM
4:30 AM
5:00 AM
5:30 AM
6:00 AM
6:30 AM
7:00 AM
7:30 AM
Snake & Crane Arts Of Shaolin
8:00 AM
8:30 AM
9:00 AM
9:30 AM
10:00 AM
10:30 AM
11:00 AM
11:30 AM
12:00 PM
12:30 PM
1:00 PM
1:30 PM
2:00 PM
2:30 PM
3:00 PM
3:30 PM
A Shock To The System (1990)
4:00 PM
4:30 PM
5:00 PM
5:30 PM
6:00 PM
6:30 PM
7:00 PM
7:30 PM
Snake & Crane Arts Of Shaolin
8:00 PM
8:30 PM
9:00 PM
9:30 PM
10:00 PM
10:30 PM
11:00 PM
11:30 PM
12:00 AM
12:30 AM
1:00 AM
1:30 AM
2:00 AM
2:30 AM
3:00 AM
3:30 AM
4:00 AM
4:30 AM
5:00 AM
5:30 AM
6:00 AM
6:30 AM
7:00 AM
7:30 AM
8:00 AM
8:30 AM
9:00 AM
9:30 AM
10:00 AM
10:30 AM
11:00 AM
11:30 AM
12:00 PM
12:30 PM
1:00 PM
1:30 PM
2:00 PM
2:30 PM
3:00 PM
3:30 PM
4:00 PM
4:30 PM
5:00 PM
5:30 PM
6:00 PM
6:30 PM
7:00 PM
7:30 PM
8:00 PM
8:30 PM
9:00 PM
9:30 PM
10:00 PM
10:30 PM
11:00 PM
11:30 PM
12:00 AM
12:30 AM
1:00 AM
1:30 AM
Godzilla, The Uncut Japanese Original (Gojira)
1:59 AM
2:29 AM
2:59 AM
3:29 AM
3:59 AM
4:29 AM
4:59 AM
5:29 AM
5:59 AM
6:29 AM
6:59 AM
7:29 AM
7:59 AM
8:29 AM
8:59 AM
9:29 AM
9:59 AM
10:29 AM
10:59 AM
11:29 AM
11:59 AM
12:29 PM
12:59 PM
1:29 PM
Godzilla, The Uncut Japanese Original (Gojira)
1:59 PM
2:29 PM
2:59 PM
3:29 PM
3:59 PM
4:29 PM
4:59 PM
5:29 PM
5:59 PM
6:29 PM
6:59 PM
7:29 PM
7:59 PM
8:29 PM
8:59 PM
9:29 PM
Backlot: Cannibal Girls
Season 1 Episode 47
Backlot: Summer Of Fear: Interview With John Carpenter
Season 1 Episode 12
Backlot: Piranha: The Making Of Piranha
Season 1 Episode 3
12:00 AM
12:30 AM
1:00 AM
1:30 AM
Godzilla, The Uncut Japanese Original (Gojira)
1:59 AM
2:29 AM
2:59 AM
3:29 AM
3:59 AM
4:29 AM
4:59 AM
5:29 AM
5:59 AM
6:29 AM
6:59 AM
7:29 AM
7:59 AM
8:29 AM
8:59 AM
9:29 AM
9:59 AM
10:29 AM
10:59 AM
11:29 AM
11:59 AM
12:29 PM
12:59 PM
1:29 PM
Godzilla, The Uncut Japanese Original (Gojira)
1:59 PM
2:29 PM
2:59 PM
3:29 PM
3:59 PM
4:29 PM
4:59 PM
5:29 PM
5:59 PM
6:29 PM
6:59 PM
7:29 PM
7:59 PM
8:29 PM
8:59 PM
9:29 PM
Backlot: Cannibal Girls
Season 1 Episode 47
Backlot: Summer Of Fear: Interview With John Carpenter
Season 1 Episode 12
Backlot: Piranha: The Making Of Piranha
Season 1 Episode 3
*Times are in PT. Schedule is subject to change.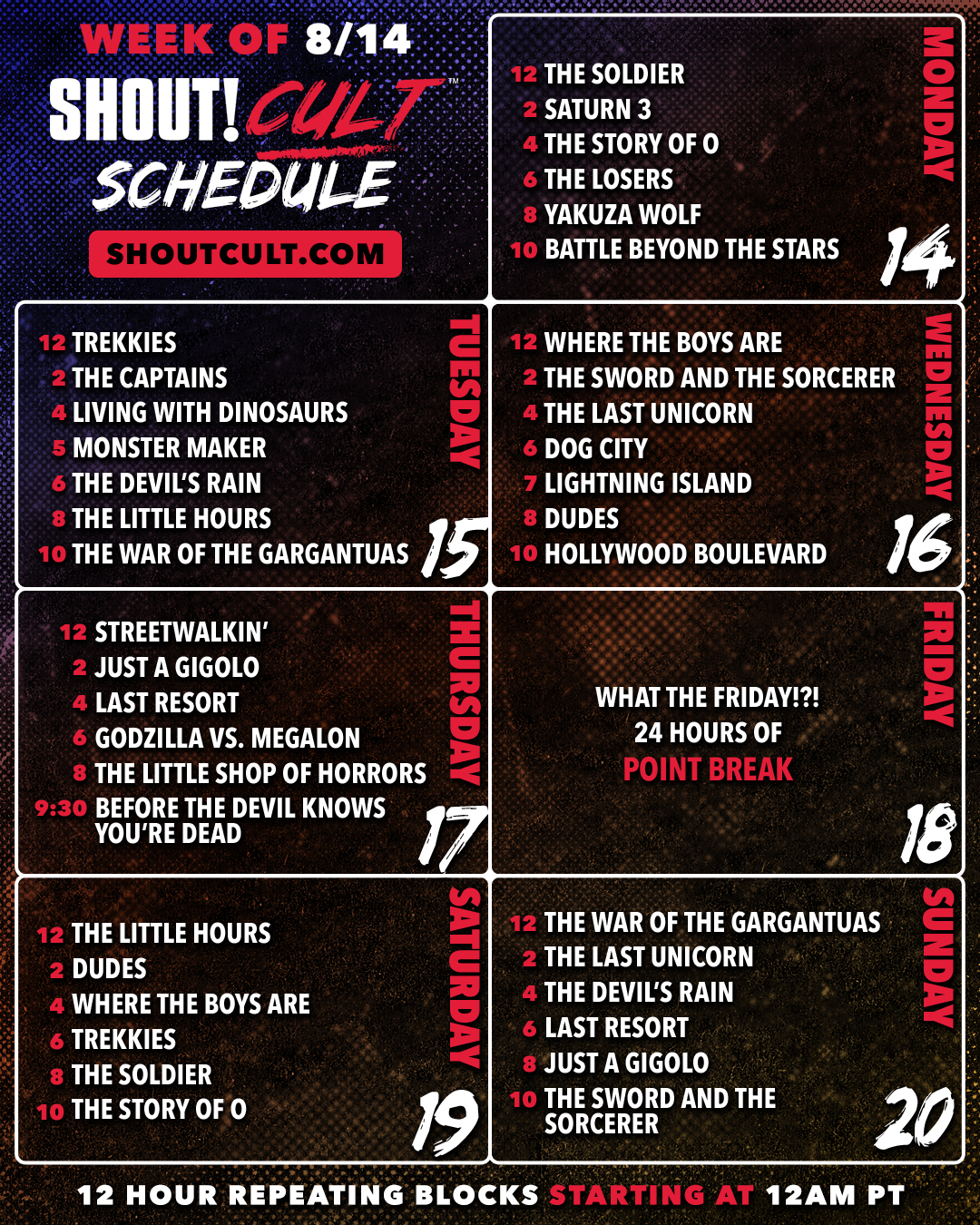 Shout! Factory TV presents Shout! Cult, a 24/7 channel dedicated to beloved movies that fall outside the mainstream. Campy, gonzo, transgressive, even revolutionary — these films have found their way into the hearts of fans with a taste for the adventurous, earning their place in the darkest — and funniest — corners of film history. Revel in the memorable moments, crazy characters, and diabolical directors on the channel where it's midnight 24/7.
You can watch Shout! Cult right here, on ShoutFactoryTV.com, or on any of the Shout! Factory TV apps, currently available on Amazon Fire TV, Android, Apple TV, and Roku.