The Carol Burnett Show
Season 9 Episode 6
The Carol Burnett Show
Season 8 Episode 12
The Carol Burnett Show
Shirley MacLaine
Season 9 Episode 4
The Carol Burnett Show
Martha Raye and Ross Martin
Season 4 Episode 10
The Carol Burnett Show
Season 2 Episode 20
The Carol Burnett Show
Lucille Ball, Tim Conway, Gloria Loring
Season 1 Episode 4
The Carol Burnett Show
Season 1 Episode 25
The Best of The Carol Burnett Show
Gloria Swanson
Season 7 Episode 1
The Carol Burnett Show
Season 8 Episode 23
The Carol Burnett Show
Season 7 Episode 20
The Carol Burnett Show
Rita Moreno
Season 9 Episode 16
The Carol Burnett Show
Season 5 Episode 6
The Carol Burnett Show
Season 8 Episode 9
The Carol Burnett Show
Season 2 Episode 16
The Carol Burnett Show
Dinah Shore
Season 10 Episode 8
The Carol Burnett Show
Imogene Coca and Vic Damone
Season 2 Episode 11
The Carol Burnett Show
The Carol Burnett Show: Bobbie Gentry and Phyllis Diller
Season 1 Episode 6
The Best of The Carol Burnett Show
Betty White
Season 10 Episode 12
The Carol Burnett Show
Season 9 Episode 6
The Carol Burnett Show
Season 8 Episode 12
The Carol Burnett Show
Shirley MacLaine
Season 9 Episode 4
The Carol Burnett Show
Martha Raye and Ross Martin
Season 4 Episode 10
The Carol Burnett Show
Season 2 Episode 20
The Carol Burnett Show
Lucille Ball, Tim Conway, Gloria Loring
Season 1 Episode 4
The Carol Burnett Show
Season 1 Episode 25
The Best of The Carol Burnett Show
Gloria Swanson
Season 7 Episode 1
The Carol Burnett Show
Season 8 Episode 23
The Carol Burnett Show
Season 7 Episode 20
The Carol Burnett Show
Rita Moreno
Season 9 Episode 16
The Carol Burnett Show
Season 5 Episode 6
The Carol Burnett Show
Season 8 Episode 9
Candid Camera
Candid Camera: S1 E103 - Episode 103
*Times are in PT. Schedule is subject to change.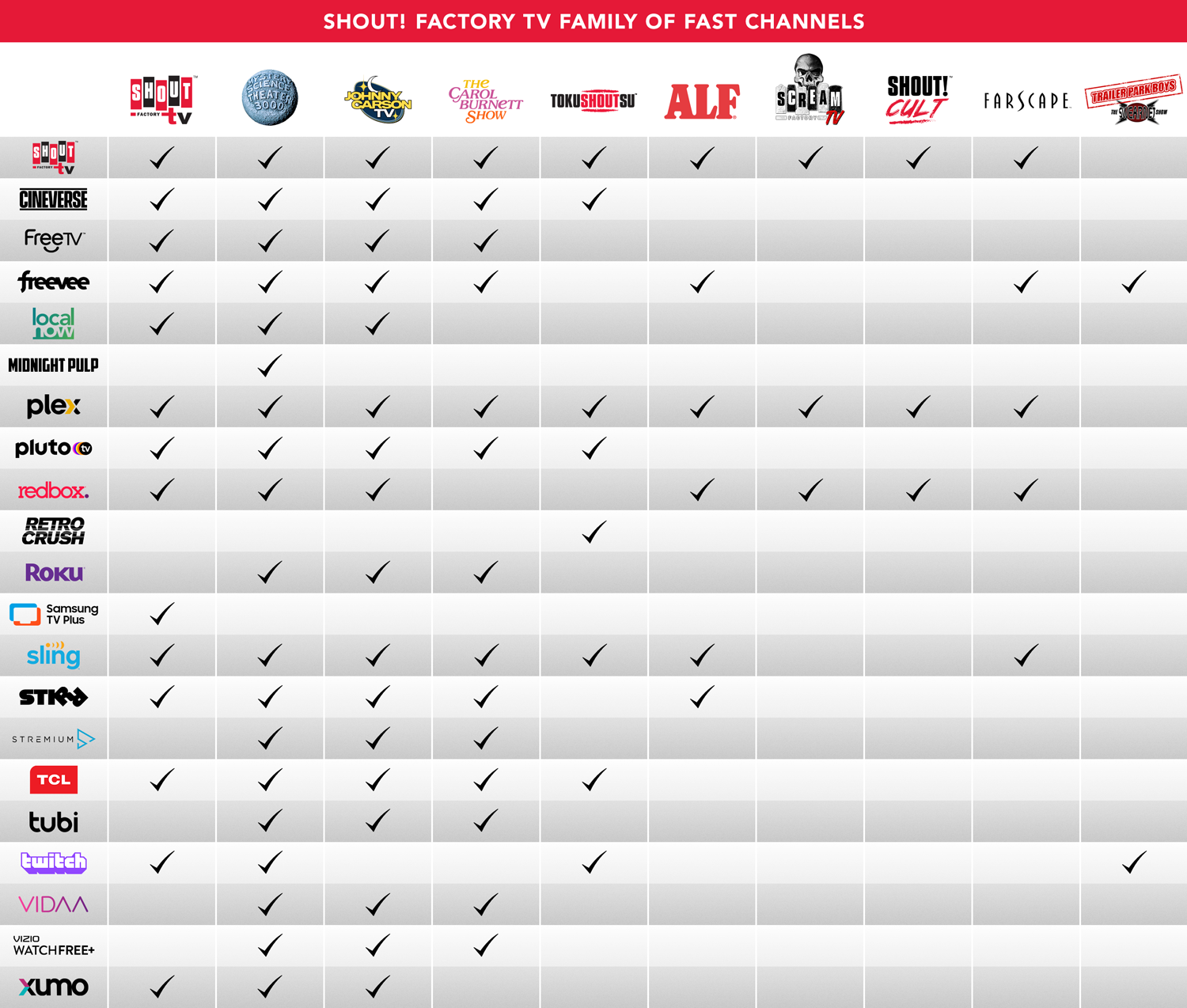 If you want to enjoy Shout! Factory TV spoon-fed to you by our expert curators, this is the place! Join us for featured programmings like Super Sentai Sundays, MSTie Mondays, Toku Tuesdays, WHAT THE FRIDAY!? and more. This is also the home to our live streaming events such as the MST3K Turkey Day Marathon, Piranhathon!, Patton Oswalt's Six Pack, Power Morphicon Live, and many more.
Shout! Factory TV is a digital entertainment streaming service that brings timeless and contemporary cult favorites to pop culture fans. Shout! Factory TV offers an unrivaled blend of original programming and TV shows and movies curated from major studios, independent producers, and its own distinctive entertainment library. The Shout! Factory TV family of channels also includes Mystery Science Theater 3000, Johnny Carson TV, TokuSHOUTsu, and The Carol Burnett Show with more to come soon.