12:00 PM
12:30 PM
1:00 PM
1:30 PM
Mystery Science Theater 3000
Parts: The Clonus Horror
Season 8 Episode 11
2:00 PM
2:30 PM
3:00 PM
3:30 PM
Mystery Science Theater 3000
Fugitive Alien
Season 3 Episode 10
4:00 PM
4:30 PM
5:00 PM
5:30 PM
Mystery Science Theater 3000
The Screaming Skull
Season 9 Episode 12
6:00 PM
6:30 PM
7:00 PM
7:30 PM
Mystery Science Theater 3000
The Corpse Vanishes
Season 1 Episode 4
8:00 PM
8:30 PM
9:00 PM
9:30 PM
Mystery Science Theater 3000
Angels' Revenge
Season 6 Episode 22
10:00 PM
10:30 PM
11:00 PM
11:30 PM
Mystery Science Theater 3000
The Slime People
Season 1 Episode 7
12:00 AM
12:30 AM
1:00 AM
1:30 AM
Mystery Science Theater 3000
Future War
Season 10 Episode 3
2:00 AM
2:30 AM
3:00 AM
3:30 AM
Mystery Science Theater 3000
Robot Monster
Season 1 Episode 6
4:00 AM
4:30 AM
5:00 AM
5:30 AM
Mystery Science Theater 3000
Santa Claus Conquers the Martians
Season 3 Episode 21
6:00 AM
6:30 AM
7:00 AM
7:30 AM
Mystery Science Theater 3000
The Atomic Brain
Season 5 Episode 18
8:00 AM
8:30 AM
9:00 AM
9:30 AM
Mystery Science Theater 3000
The Magic Sword
Season 4 Episode 11
10:00 AM
10:30 AM
11:00 AM
11:30 AM
Mystery Science Theater 3000
Catalina Caper
Season 2 Episode 4
12:00 PM
12:30 PM
1:00 PM
1:30 PM
Mystery Science Theater 3000
Time of the Apes
Season 3 Episode 6
2:00 PM
2:30 PM
3:00 PM
3:30 PM
Mystery Science Theater 3000
Attack of the Giant Leeches
Season 4 Episode 6
4:00 PM
4:30 PM
5:00 PM
5:30 PM
Mystery Science Theater 3000
Daddy-O
Season 3 Episode 7
6:00 PM
6:30 PM
7:00 PM
7:30 PM
Mystery Science Theater 3000
Wild World of Bat Woman
Season 5 Episode 15
8:00 PM
8:30 PM
9:00 PM
9:30 PM
Mystery Science Theater 3000
The Girl in Gold Boots
Season 10 Episode 2
10:00 PM
10:30 PM
11:00 PM
11:30 PM
Mystery Science Theater 3000
Blood Waters of Dr. Z
Season 10 Episode 4
*Times are in PT. Schedule is subject to change.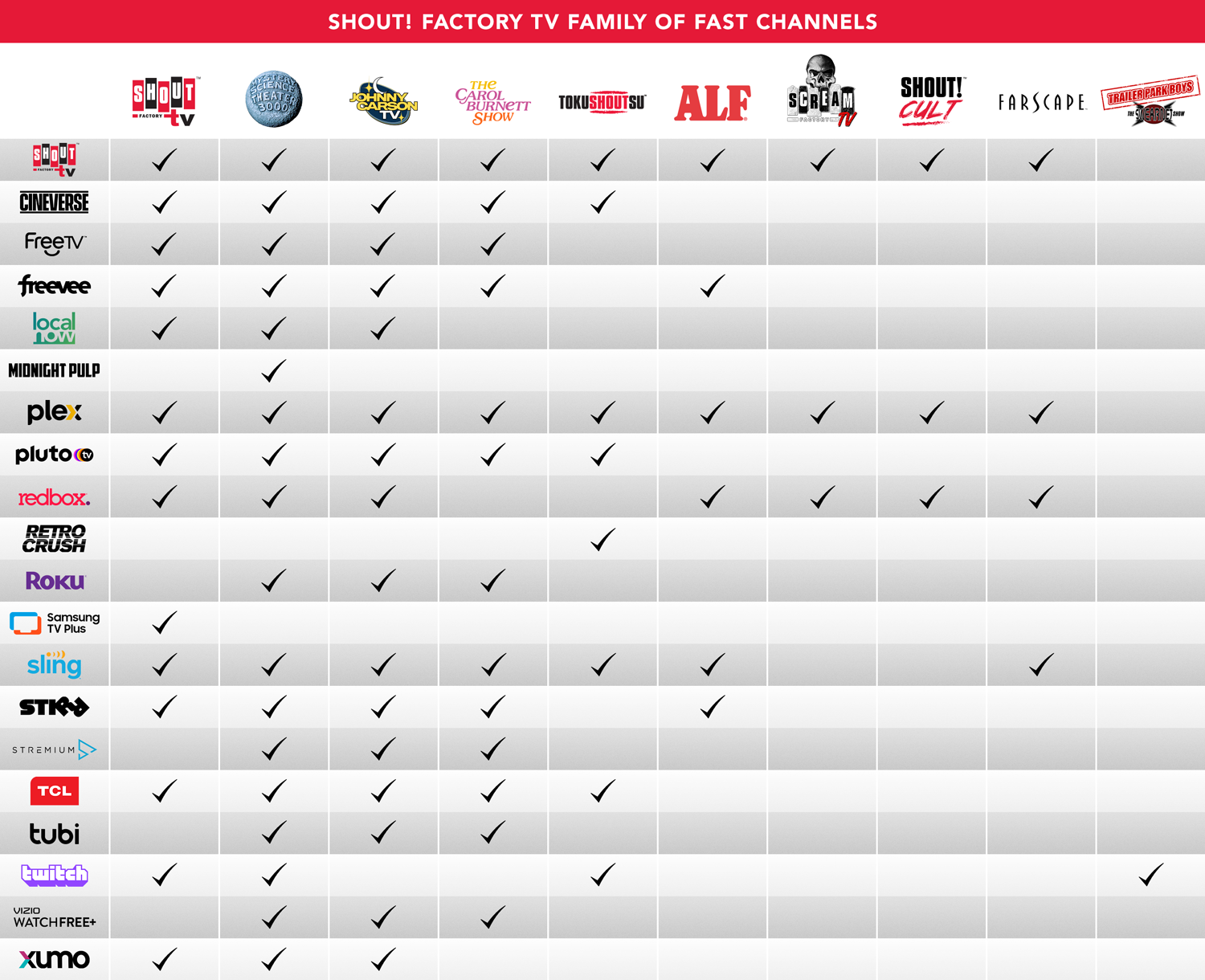 In the not-too-distant future, next Sunday A.D., there was a guy named Joel, not too different than you or me...
Originally airing for 11 seasons from 1988 to 1999, Mystery Science Theater 3000 became one of the most beloved cult TV shows of all time. In 2015, fans united behind a record-breaking Kickstarter campaign to revive the show for two new seasons, followed by another successful campaign in 2021. Learn more about MST3K here.