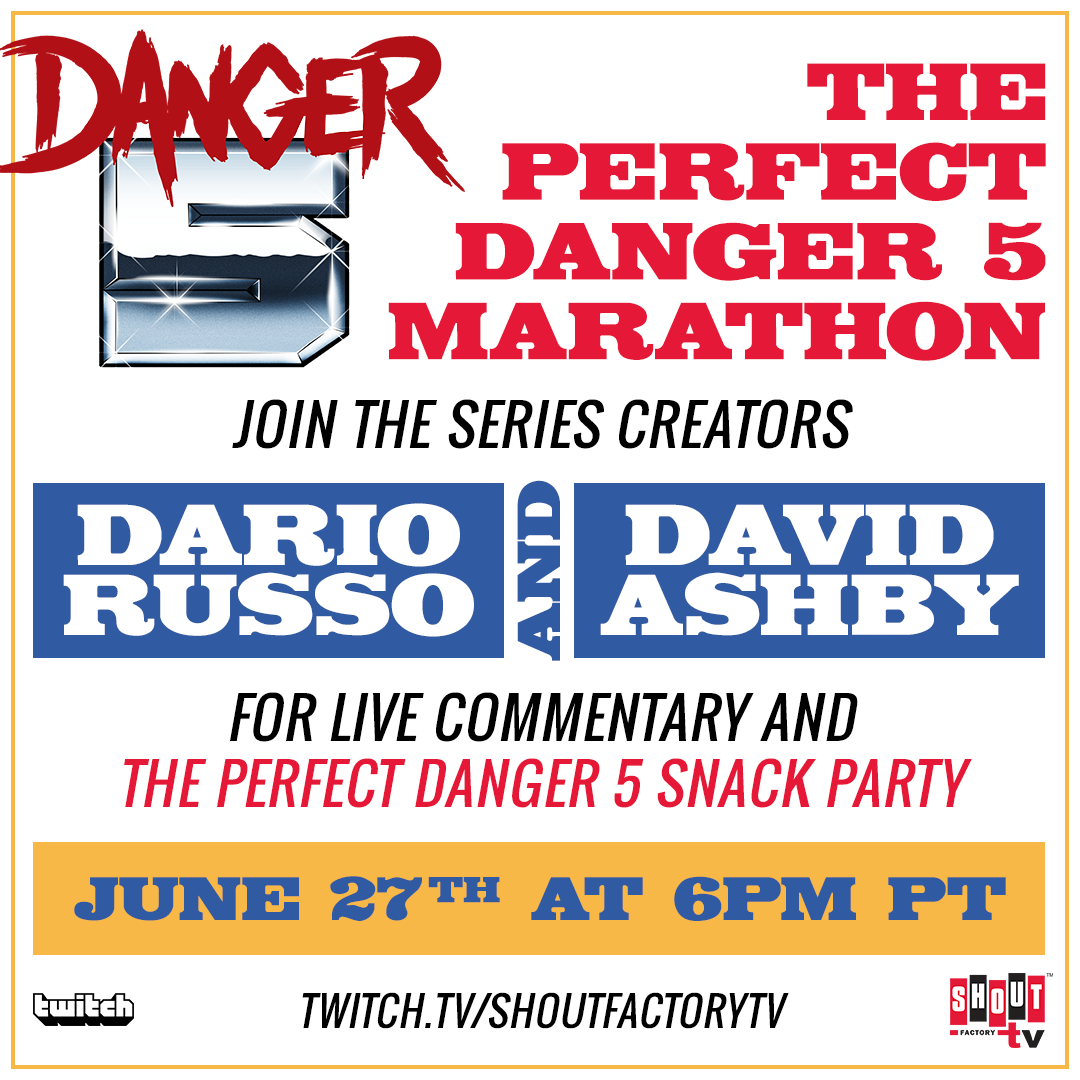 Shout! Factory TV and Twitch present a live interactive marathon of the Australian comedy spy series Danger 5 on June 27th. Join series creators Dario Russo and David Ashby on Twitch for live commentary while streaming episodes from the show. The comedy creators will take questions from viewers and host "The Perfect Danger 5 Snack Party", not to mention the marathon will include trivia questions, twitter polls and newly created voice-over messages from Colonel Chestbridge (eagle headed guy).
The marathon and livestream begins Saturday, June 27th at 6 p.m. PT. Tune in to Shout! Factory TV's official Twitch channel for the livestream and commentary. The Perfect Danger 5 Marathon is available on ShoutFactoryTV.com; Shout! Factory TV's Roku, Amazon Fire, Apple TV, and Android apps; and the following digital streaming platforms: Samsung TV Plus, Comcast Xfinity, Xumo, Vizio, Redbox, IMDb TV and STIRR.
Danger 5 is a cult-favorite television series which premiered in 2012 and ran for two seasons on SBS One in Australia. The series is set in a campy, 1960's interpretation of World War II and follows a group of five international spies on a mission to kill Adolf Hitler and thwart his plans of world domination. This group of special operatives include Jackson from the USA, Tucker from Australia, Ilsa from Russia, Claire from Britain and Pierre from Europe. Their missions include discovering Josef Mengele's perverted Antarctic death circus, busting down Erwin Rommel's golden murder casino and posing as exotic dancers in an attempt to take out Hitler at his own birthday party.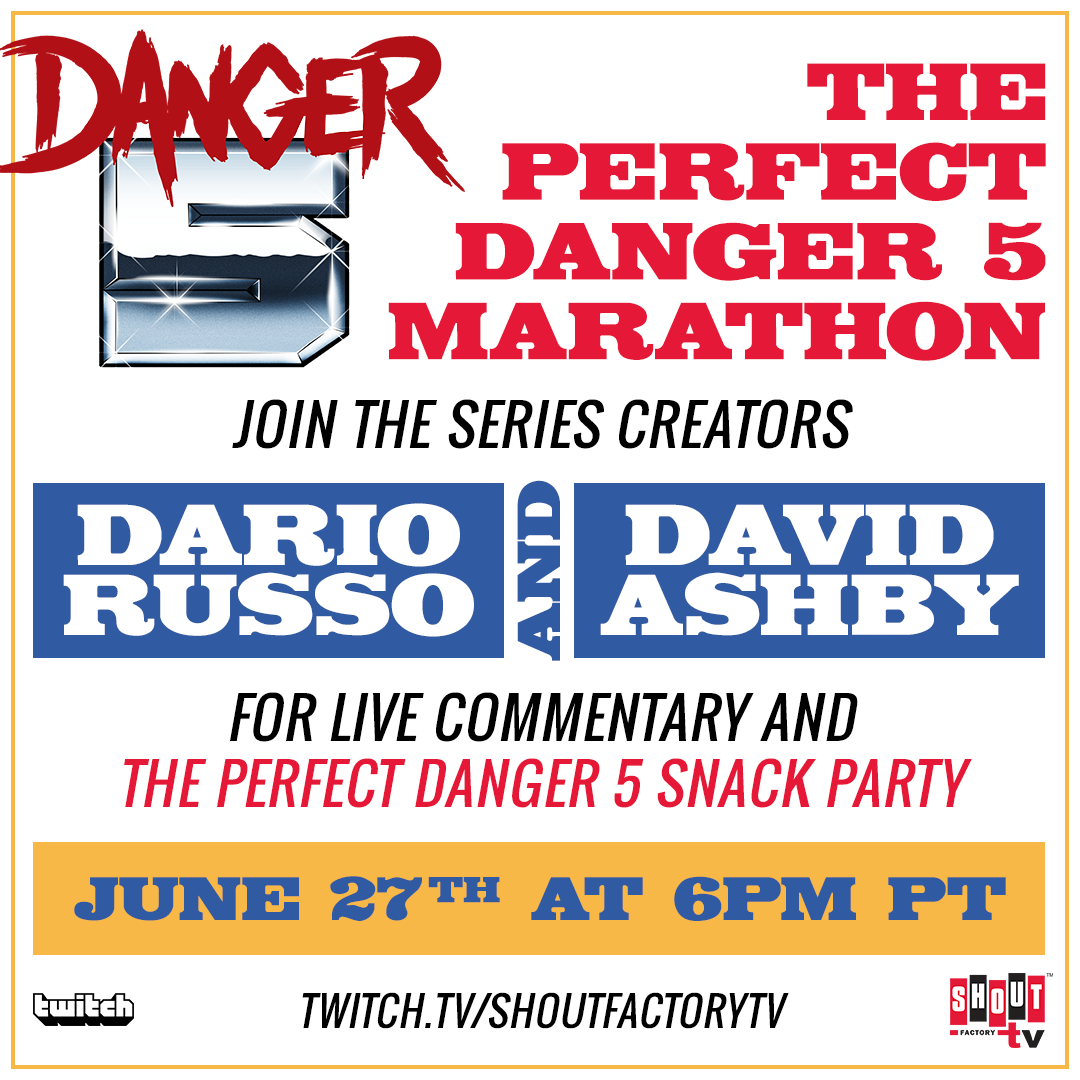 Tenspeed and Brown Shoe
The Robin Tucker's Roseland and Ballroom Murder
Season 1 Episode 3
Black Scorpion
Bad Sport
Season 1 Episode 15
The Goode Family
Public Disturbance
Season 1 Episode 10
ReBoot
When Games Collide
Season 2 Episode 3
Kamen Rider
Defeat Kinokomolg!
Season 1 Episode 25
Kamen Rider
The Terrifying Antlion
Season 1 Episode 26
Kamen Rider
Mukadelas Monster Classroom
Season 1 Episode 27
Kamen Rider
Underground Monster Mogurang
Season 1 Episode 28
4:00 PM
4:30 PM
5:00 PM
5:30 PM
Digimon Adventure Tri.: Loss
Let's Talk Toku
Importing Toku: With Kotetsu Toys Japan
Season 1 Episode 20
Silk Stalkings
Slip-Up
Season 7 Episode 13
Silk Stalkings
Rage
Season 7 Episode 14
Silk Stalkings
Teacher's Pet
Season 7 Episode 15
The Carol Burnett Show
Season 1 Episode 1
The Carol Burnett Show
Season 2 Episode 13
The Carol Burnett Show
Season 2 Episode 25
The Carol Burnett Show
Season 5 Episode 6
12:00 AM
12:30 AM
1:00 AM
1:30 AM
2:00 AM
2:30 AM
3:00 AM
3:30 AM
4:00 AM
4:30 AM
5:00 AM
5:30 AM
6:00 AM
6:30 AM
7:00 AM
7:30 AM
8:00 AM
8:30 AM
9:00 AM
9:30 AM
10:00 AM
10:30 AM
11:00 AM
11:30 AM
12:00 PM
12:30 PM
1:00 PM
1:30 PM
2:00 PM
2:30 PM
3:00 PM
3:30 PM
4:00 PM
4:30 PM
5:00 PM
5:30 PM
6:00 PM
6:30 PM
7:00 PM
7:30 PM
8:00 PM
8:30 PM
9:00 PM
9:30 PM
10:00 PM
10:30 PM
11:00 PM
11:30 PM
*Times are in PT. Schedule is subject to change.